Ham Radio Towers Stolen in Effort, PA
---
Posted Dec 17, 2014 by QRZnow

Sometime between Nov. 30 and Dec. 7, someone stole two ham radio communication towers from an Upper Valley Road property in Effort.

Anyone with information is asked to call state police at 570-646-2271.
"Amateur Radio Parity Act" Campaign Will Resume in New Congress
---
Posted Dec 16, 2014 by QRZnow
Largely as the result of a grassroots campaign, "The Amateur Radio Parity Act of 2014" (H.R. 4969) attracted the support of 69 members of the US House of Representatives in addition to that of its sponsor, Rep Adam Kinzinger (R-IL). While the soon-to-adjourn 113th Congress did not enact the bill, the effort to gain passage of the legislation will resume anew when the 114th Congress convenes in January. Introduced with bipartisan support last June, H.R. 4969 called on the FCC to apply the "reasonable accommodation" three-part test of the PRB-1federal pre-emption policy to private land-use restrictions regarding antennas. The limited PRB-1 pre-emption currently applies only to state and municipal land-use ordinances. The FCC has indicated its reluctance to provide the same legal protections from private land-use agreements — often called covenants, conditions, and restrictions or CC&Rs — without direction from Congress. ARRL Regulatory Information Manager Dan Henderson, N1ND, this week stressed that the fight is not over. 
"While we are disappointed that the bill did not make it through the process during the session, the effort was extremely energized by the efforts of thousands of ARRL members who participated in our grassroots lobbying effort," Henderson said. "In just 6 short months we gained tremendous traction for the Amateur Radio Parity Act."
Henderson explained that sometime after the new Congress is called into session in January, a new "Amateur Radio Parity Act" bill with a new number will be introduced into the US House. "Once this happens, the ARRL will gear up for a fresh effort to push this legislation forward," he added.
In a note to ARRL Section Managers this week, ARRL CEO David Sumner, K1ZZ, thanked Section leaders and Field Organization volunteers on behalf of the ARRL Board of Directors and Headquarters staff for their help in garnering legislative support for H.R. 4969. "We had hoped to gain 30 co-sponsors for the bill and ultimately ended up with 69, plus the sponsor," Sumner noted. "The overwhelming majority of these 70 supporters are returning in January, which gives us a good base on which to grow additional support."
Sumner said the objective for 2015 is to continue the momentum, gathering enough support to move the bill through the Energy and Commerce Committee. "We have received expressions of interest from the Senate side and are hoping to have the bill introduced there as well," he added.
Henderson said the bill would not have attained its current level of support in the US House without the thousands of letters and phone calls made by ARRL members to their congressional representatives. "The success of this crucial issue relies on the efforts of all radio amateurs and ARRL members," he said. "We know you will step forward in the new year, when we renew our efforts on Capitol Hill."
The ARRL has developed an H.R. 4969 web page that provides additional information on this subject.
ARRL CW Rookie Roundup Returns on December 21!
---
Posted Dec 13, 2014 by ARRL
Recently licensed radio amateurs who have been working hard to improve their Morse code proficiency will have a great opportunity to put their improved skills to use on December 21, when the CW edition of the ARRL Rookie Roundupreturns to the airwaves.
Who is a "Rookie?" A Rookie is any radio amateur who has been licensed for 3 years or less, regardless of license class. If you received your license in 2012, 2013, or 2014, you're eligible to compete as a Rookie. Operators licensed before 2012 may compete and will be recognized in the final results, but they may only submit check logs. Old Timers are encouraged to g
et on the air and work the Rookies.
There are many ways for Rookies to participate. They can enter in the Single-Operator category. Or they can compete in the Multioperator category and join a group of other Rookies at one station, taking turns at the key. Up to five Single-Operator Rookies can operate from separate stations and combine their scores as a team. Stations are allowed a maximum of 100 W, Elmering is encouraged, and the use of spotting networks is permitted (but, please, no self-spotting).
Rookies call "CQ RR" (CQ Rookie Roundup), while veteran ops call "CQ R" (CQ Rookies). Rookies can work anyone, but non-Rookies can only work Rookies. Exchange the call sign of the station you're working, your call sign, your first name, the two-digit number of the year first licensed, and your state, Canadian province, Mexican call area, or DX. You need not send any faster than you can copy. Other operators should slow down (QRS) for you, and you will work stations. If you're a veteran operator or a member of a club that promotes CW activity, break out your straight key or paddle, send slowly, and work some Rookies. You can show them how much fun CW can be!
Three Rookie Roundups — SSB, RTTY, and CW — are held during each calendar year. The CW Rookie Roundup will take place on Sunday, December 21, from 1800 UTC through 2359 UTC. Many major contest logging software packages support the Rookie Roundup or you can keep a paper log and summary sheet. Submit your score using the online Score Submission Form by 2359 UTC on Wednesday, December 24. Certificates will be e-mailed to all participants shortly after the event.
ARRL's Logbook of The World Tops 100 Million QSL Records!
---
Posted Dec 12, 2014 by ARRL
The ARRL's Logbook of The World (LoTW) online "card-less" contact-confirmation service this week recorded a new milestone — 100 million QSL records out of some 630 million uploaded contacts. That's an increase of more than 18 million QSL records since the end of last year. First described conceptually in the October 2001 QST "It Seems to Us…" editorial, Logbook of The World launched in September 2003. Since then, it has become an accepted Amateur Radio institution — perhaps not at the same level of traditional QSL cards, but close and gaining. The 100 million contact confirmations, ARRL CEO David Sumner, K1ZZ, pointed out, is the equivalent of 200 million QSL cards.
"If placed end to end, that many QSLs would reach more than 17,000 miles — not quite all the way around the world, but enough to qualify as a 'long-path' QSO," he quipped. ARRL CEO Harold Kramer, WJ1B, pointed out that using LoTW can mean a considerable saving in postage for DXers and others over the expense of exchanging QSL cards.
LoTW was an instant success. Within 2 weeks of its debut, the service already had some 2200 registered users and had confirmed some 51,000 contacts out of more than 8 million uploaded. The number of users today number more than 72,000 — up by nearly 10,000 this year alone.
Liquid antenna turns sea water into signal
---
Posted Dec 12, 2014 by wired.co.uk
The US Navy has created a device which turns a jet of sea water into an impromptu liquid antenna, creating a powerful, high frequency broadcast tower for ships, emergency situations and easy transportation.
Created by SPAWAR System Center Pacific, the sea water antenna uses the magnetic induction properties of salt to make ordinary ocean water transmit and receive radio signals. As the pillar of water is squirted through the current probe, a magnetic field is created and signal comes through to a hooked-up communication device.
Plus, depending on the height of the stream of water, you can get UHF, VHF and HF broadcasts, all from the same jet of H2O. You can even set up multiple jets of water, at different heights, to broadcast on different bands simultaneously. Handy.
The idea could prove particularly useful for ships, which struggle to find room for all the antennas on board. US Navy ships already have upwards of 80 antennas on deck, meaning real estate for extra towers is hugely limited. Instead, the sea water device can be placed anywhere on the deck.
The San Diego based research and development lab also argues that such an antenna could get communications back on online during natural disasters. The device can be used on land, too, to get a temporary antenna up quickly, as long as salt is added to a local water source.
Marconi sends first Atlantic wireless transmission – 12/12/1901
---
Posted Dec 12, 2014 by QRZnow
Italian physicist and radio pioneer Guglielmo Marconi succeeds in sending the first radiotransmission across the Atlantic Ocean, disproving detractors who told him that the curvature of the earth would limit transmission to 200 miles or less. The message–simply the Morse-code signal for the letter "s"–traveled more than 2,000 miles from Poldhu in Cornwall, England, to Newfoundland, Canada.
Born in Bologna, Italy, in 1874 to an Italian father and an Irish mother, Marconi studied physics and became interested in the transmission of radio waves after learning of the experiments of the German physicist Heinrich Hertz. He began his own experiments in Bologna beginning in 1894 and soon succeeded in sending a radio signal over a distance of 1.5 miles. Receiving little encouragement for his experiments in Italy, he went to England in 1896. He formed a wireless telegraph company and soon was sending transmissions from distances farther than 10 miles. In 1899, he succeeded in sending a transmission across the English Channel. That year, he also equipped two U.S. ships to report to New York newspapers on the progress of the America's Cup yacht race. That successful endeavor aroused widespread interest in Marconi and his wireless company.
Marconi's greatest achievement came on December 12, 1901, when he received a message sent from England at St. John's, Newfoundland. The transatlantic transmission won him worldwide fame. Ironically, detractors of the project were correct when they declared that radio waves would not follow the curvature of the earth, as Marconi believed. In fact, Marconi's transatlantic radio signal had been headed into space when it was reflected off the ionosphere and bounced back down toward Canada. Much remained to be learned about the laws of the radio wave and the role of the atmosphere in radio transmissions, and Marconi would continue to play a leading role in radio discoveries and innovations during the next three decades.
In 1909, he was jointly awarded the Nobel Prize in physics with the German radio innovator Ferdinand Braun. After successfully sending radio transmissions from points as far away as England and Australia, Marconi turned his energy to experimenting with shorter, more powerful radio waves. He died in 1937, and on the day of his funeral all British Broadcasting Corporation (BBC) stations were silent for two minutes in tribute to his contributions to the development of radio.
Videos: http://qrznow.com/marconi-sends-first-atlantic/
For Sale -- Dell Latitude D600 -- $40
---
Posted Dec 11, 2014 by NW0LF
For sale- Dell Latitude D600 laptop.  Comes with 1.25 Gb of ram and a 30Gb hard drive.  Windows XP SP3 and all drivers installed.  The CMOS battery needs replaced ($5.00 on a slow boat from China) and the main battery holds a charge.  The CMOS battery is very easy to replace, no tools required.  I can show you how to do it.  Computer works fine with the power supply, which is a real Dell power supply and worth $20 itself.  Will include a floppy drive and CDRW/DVD combo drive.  I verified the optical drive function but not the floppy drive.  Wifi also works.  Would make a good logging computer.  It even has a serial and parallel port on it.   Asking $40. 
Contact NW0LF@dawoolfe.com at 386-690-9412
Although the ARRL celebrated its centennial this year, 2015 is the centennial year for QST magazine.
---
Posted Dec 09, 2014 by ARRL
First published in December 1915, QST is the not only the official membership journal of the ARRL, it is also the most widely read Amateur Radio magazine in the world with a monthly circulation of more than 165,000.
QST kicks off its celebration with a photo contest announced in the January issue, as well as online. Winning photos will appear on several QST covers throughout 2015 and each winning photographer will receive $250.
"We're hoping to showcase a number of member photos on 2015 covers," said QST Editor in Chief Steve Ford, WB8IMY. "We've also planned a few 'surprise covers' that I think readers will enjoy."
Each 2015 issue of QST will also contain articles and columns republished from vintage issues. "In the January issue we'll be reprinting the special declaration from the January 1942 QST concerning the cessation of amateur operations at the start of the US entry into World War II," Ford said. "The statement was originally printed on yellow stock to make sure readers wouldn't miss it. We'll be duplicating that background color in our version as well."
Each vintage article will be reprinted exactly as it appeared in its original issue. "We chose articles based on either historical relevance or nostalgia value," Ford said. "For instance, we'll be reprinting one of the first QST articles to describe the use of transistors in Amateur Radio applications. For the April Fool theme, readers should beware the reappearance of the infamous Larson E. Rapp."
Ford went on to say that observant readers would find other treats in 2015 QSTs. "As space permits, we will be reprinting some vintage Gil Gildersleeve cartoons. I'd advise readers to also be on the lookout for occasional appearances of the beloved 'Stray' kitties. Long time QST readers will know what I mean."
Concerning the popular "75, 50 and 25 Years Ago" column, Ford commented, "I've received a few inquiries from members who wondered if we would be changing the name of the column to '100, 50 and 25 Years Ago.' We will, but not right away. Because the first QST wasn't published until December 1915, we'll inaugurate the name change in the December 2015 issue."
Design The Next AMSAT Satellite!
---
Posted Dec 09, 2014 by amsat.org
At the 2014 AMSAT Space Symposium AMSAT Vice President – Engineering Jerry Buxton announced the plan for the next generation of AMSAT satellites. "The door is open for everyone, to submit their ideas. AMSAT Engineering has a long term strategy and this is the first step."
The Engineering long term strategy includes the following goals
Advancement of amateur radio satellite technical and communications skills
Enhance international goodwill
Grow and sustain a skilled pool of amateur radio satellite engineers
Establish and maintain partnerships with educational institutions
Develop a means to use hardware common to all opportunities
With respect to the last goal Jerry said "Within the bounds of the type of satellite it takes to achieve any of the various orbit opportunities, let's consider in those plans the possibility of developing a platform that can suit any and all orbits.  Perhaps a modular CubeSat, using a common bus as we did in Fox-1, which gives great flexibility in building and flying different sizes and configurations of CubeSats with simple common-design hardware changes."
Iowa men keepers of fading communication mode
---
Posted Dec 07, 2014 by The Washington Times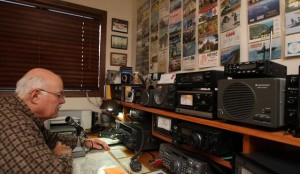 BURLINGTON, Iowa (AP) - In comfortable basement rooms, surrounded by dials, buttons and knobs, Sam Burrell and Mike Rosenblatt each has the world as his fingertips.
Literally.
Using radio waves bounced off the ionosphere, a conversation with a fellow ham in South America, California or some remote island
in the Indian Ocean, is just a frequency adjustment away, The Hawk Eye (http://bit.ly/15zXfN5 ) reported.
"You never know who is listening on the radio," Rosenblatt said, explaining that during a conversation with a friend earlier this year, a ham
from Tokyo chimed in.
Read more: http://www.washingtontimes.com/news/2014/nov/29/iowa-men-keepers-of-fading-communication-mode/#ixzz3LGdALrvU
** Troubles with Ads on their site, full article available here: Iowa Man Keepers of fading communications mode
Christmas Banquet a success!
---
Posted Dec 07, 2014 by AJ4MQ
We had a great turn-out this year, 45 members and visitors join together for our end of year celebration. Sounds like everyone had a great time. We will look forward to what 2015 holds!
See photos from Susan Reynolds Makky
Yes, you can put up an antenna anywhere.
---
Posted Dec 06, 2014 by AJ4MQ
Just had to post these images.
Galileo satellite recovered and transmitting navigation signals
---
Posted Dec 05, 2014 by QRZnow
http://qrznow.com/galileo-satellite-recovered-transmitting-navigation-signals/
The K7RA Solar Update
---
Posted Dec 05, 2014 by ARRL
Average daily sunspot numbers rose substantially over the past week, from 97.4 in the previous seven days to 152 for the most recent. Average daily solar flux rose from 168.9 to 172.1.

Predicted solar flux is currently 150 on December 5-6, 145 on December 7, 140 on December 8-12, 180 on December 13-14, 185 on December 15-19, 170 on December 20-23, 175 on December 24-27, 180 on December 28-30, 170 on December 31 through January 1, then 165, 160, 170 and 175 on January 2-5, and 180 on January 6-10.

Predicted planetary A index is 5 on December 5-12, 20 on December 13, 10 on December 14-15, then 8, 10 and 12 on December 16-18, 10 on December 19-20, 8 on December 21, 5 on December 22-27, then 15 and 12 on December 28-29, 8 on December 30-31, and 5 on January 1-6.

Petr Kolman, OK1MGW, sent us his latest geomagnetic stability forecast. This might be important for this weekend's ARRL 160 Meter Contest.

Petr says to expect mostly quiet conditions December 5, quiet to active December 6-7, quiet to unsettled December 8, mostly quiet December 9-10, quiet to unsettled December 11, quiet to active December 12-13, quiet to unsettled December 14-15, quiet to active December 16-17, quiet to unsettled December 18-20, mostly quiet December 21, quiet December 22, mostly quiet December 23-24, quiet on December 25-26, quiet to unsettled December 27-28, and mostly quiet December 29-31.

Petr also expects increased solar wind on December 5-7, 11-13 and 16-18.

Read More...
SKYWARN Recognition Day 2014 is December 6
---
Posted Dec 05, 2014 by ARRL
SKYWARN Recognition Day 2014 gets underway at 0000 UTC on Saturday, December 6 (Friday, December 5 in US time zones). This will mark the 16th annual event. Co-sponsored by ARRL and the National Weather Service (NWS), the 24-hour event recognizes the vital public service contribution that Amateur Radio operators make while working with NWS offices during severe weather events. It also is aimed at strengthening the bond between Amateur Radio operators and local NWS offices.
The volunteer SKYWARN program comprises nearly 290,000 trained severe weather spotters — many of them radio amateurs — who identify severe storms and provide NWS forecasters with reports of local weather conditions during severe weather events. On SKYWARN Recognition Day, Amateur Radio operators visit National Weather Service offices and contact other stations in the US and around the world. WX4NHC at the National Hurricane Center in Miami will be among the NWS sites on the air for the occasion.
SKYWARN Recognition Day is not a contest. The object is for stations to exchange some basic information with as many NWS stations as possible on 80 meters through 70 centimeters (excluding 1.25 meters). Repeater contacts are permitted. Stations exchange call signs, signal reports, locations, and a one or two-word description of the weather at their respective locations.
More than 70 amateur stations are expected to be on the air from National Weather Service offices across the US, and some will use special event call signs. They will operate on various modes including SSB, FM, AM, RTTY, CW, and PSK31. While working digital modes, these special event stations will append "NWS" to their call signs (eg, N0A/NWS). It is suggested that a licensed non-National Weather Service volunteer serve as a control operator for stations set up at NWS offices.
The VoIP SKYWARN and Hurricane nets will participate in SKYWARN Recognition Day. The weekly VoIP SKYWARN/Hurricane Preparation Net will meet 1 hour earlier on December 5, prior to the official start of SKYWARN Recognition Day. The weekly net and net activations for hurricanes employ the EchoLink *WX-TALK* Conference server Node #:7203 which is integrated with IRLP Reflector 9219.
Additional details about SKYWARN Recognition Day are available on the SKYWARN Recognition Day web page.
Orion spacecraft launched successfully today
---
Posted Dec 05, 2014 by ARRL
How many of us watched the launch of NASA's Orion spacecraft this morning for its flight test? Orion was carried atop a Delta IV Heavy rocket from Cape Canaveral Air Force Station's Space Launch Complex in Florida. Here's a pic of the service panels as they were jettisoned away from the spacecraft (screenshot from NASA TV).
The QST Centennial Photo Contest Is Underway!
---
Posted Dec 01, 2014 by ARRL
December 1 kicks off the QST Centennial Photo Contest to celebrate the 100th year of the ARRL's membership journal (the first issue of QST was published in December 1915).
Between December 1, 2014 and August 1, 2015, ARRL members can submit photos for consideration as possible 2015 QST magazine covers. In addition to having their photos grace QST, each winner will receive $250.
Contest Rules:
• Images must be submitted by e-mail to upfront@arrl.org. Only one image can be submitted per e-mail message. You can submit multiple images during the contest period, but you can win only once.
• Images must be in JPG or TIF format at high resolution. However, individual image file sizes must not exceed 5 Mbytes.
• Do not send ZIP files. These will be rejected by the Headquarters e-mail system. Do not send links to file download sites. These will also be rejected.
• Include a few sentences with each e-mail describing the scenes shown, including names and call signs of individuals shown (if any).
• Images must not include text overlays of any kind, such as date or time stamps.
• Each submission e-mail must include the name and call sign of the photographer. Photographers must be ARRL members.
• If a photo includes anyone under the age of 18, you must submit proof (in writing, such as an e-mail) that the minor's parents have granted permission for the image to be published.
• Photographers retain all copyrights. However, by submitting the image to the ARRL, the photographer grants the ARRL non-exclusive rights to the use of the image for any lawful purpose in any media now existing or yet to be invented. This applies to both winning and non-winning images.
• Winning images will be selected by the QST Editorial Staff.
Discovering Amateur Radio – Condensed Version (HD) by K1AN
---
Posted Nov 29, 2014 by QRZnow
An introduction to Amateur Radio and the many possibilities it offers for learning, safety and security, and helping others throughout our world. This condensed version focuses specifically on ham radio
AA9PW FCC Exam Practice
---
Posted Nov 29, 2014 by QRZnow
The FCC Technician Exam (Element 2) consists of 35 questions, you are required to get over 75% (26 out of 35) for a passing grade. There are 10 subelements, T0-T9, and the full exam consists of questions from each subelement (and from each of the topic groups within each subelement). You can use the checkboxes below to include some or all of the subelements in your practice exam. Current Question Pool: 426 Questions, Effective July 1, 2014 -= FCC
Aiken SC D-STAR club holding class on January 17th
---
Posted Nov 29, 2014 by KQ4KK
The Aiken SC D-STAR Club will hold a one day CSRA D-STAR University on January 17, 2015 at University of South Carolina, Aiken campus, Aiken South Carolina.
It will start at 12 noon and run till around 5PM E.
This one-day D-STAR workshop will provide information and training on all levels of D-STAR, the Digital Smart Technology for Amateur Radio. Classes will be organized to allow participants on all levels from new users to repeater system
administrators gain knowledge about D-STAR's digital voice and data technology. The goals and objectives are to present D-STAR definitions, equipment, DVAPs, Dongles, linking, D-Rats and comprehensive training for programming the radios. There will also be presentations and demonstrations on advancements in D-STAR high speed data communications and other emergency communications techniques using D-STAR equipment. There will be time for "hands on" instructions how to program D-STAR radios without a computer. And come early and DSTAR experts will be available to program your DSTAR radio for you.
W4CFH: D-Star Classes
---
Posted Nov 28, 2014 by W4CFH
You probably won't want to drive to Aiken, S.C. but if enough
interest is shown we may be able to get such a class here
locally.

Send me a note if you would be interested.

w4cfh@arrl.net

73's Chuck
Satellite Explorer for Windows 8
---
Posted Nov 28, 2014 by QRZnowDescription

The 'Satellite Explorer' app provides real time

tracking

of

satellites

and space stations displayed in real time graphically on a tracking

map

. A real time Bing Map

view

of what would be seen from the satellite looking down toward the center of the earth as it speeds across the world at speeds often over 10,000 MPH (16,000 KPH) is included. 'Wait List' and 'Pass List' functions aid in finding passes in the future when the Space Station or other satellites will be in range. A satellite azimuth pointer is included with the 'Bing Map' function to aid in locatingsatellites. Visit WWW.TOMDOYLE.ORG/SatelliteExplorer for additional information.

Features

Supports all screen orientations

Supports ARM, x86 and x64 processors

Re: Happy Thanksgiving to One and All

---

Posted Nov 27, 2014 by KI4VWP
Fellow DBARA Members:
You are our family and our blessing. We are grateful for each and every one
of you! Have a safe and Happy Thanksgiving. We are looking forward to seeing
you at the Awards Banquet. Many blessings to all.
73 TUG K4TUG
88 Carolyn KI4VWP
Eliminating the Need for Your Own Radio Receiver
---
Posted Nov 27, 2014 by QRZnow.com
As was hinted in a previous article about Software-defined Radio (SDR) technology, you can further simplify the receiving setup for ham radio digital modes, which used only a radio, computer, and some software. Of course, you have to have a radio of some kind, but in this case you will use other people's radios (SDRs), which have been made available on the web. Using others' on-line SDRs lets you eliminate the physical radio in the "simpler" setup. You save money, setup is much easier, and you can receive from any location that has an Internet connection. It is not without some drawbacks, however.
There are two main software programs, WebSDR and PowerSDR, available for Linux and Windows, respectively. Both are free programs. They work somewhat differently, however. Each has a server component, which is run by anyone wanting to share their SDR over the Internet. The big difference between them is that for WebSDR you don't need any client software other than a Java-enable web browser, but for PowerSDR you need to use their special client. For the purposes of this article, let's not complicate things by having to add another piece of software to your computer.
Since you are not (yet) setting up your own SDR for sharing, you only need to know where to find the client side of WebSDR, which is at http://websdr.org. Go there now in another window or tab on your browser.
Happy Thanksgiving to One and All
---
Posted Nov 26, 2014 by KB4T
Greetings Fellow DBARA Members:
Just wanted to send along my best wishes to each of you for a wonderfully Happy Thanksgiving with friends and family.
Thanksgiving is a special holiday because it is meant to bring families together. I hope that each of you enjoys something magical, satisfying and/or rewarding this Thanksgiving.
73,
Frank N. Haas KB4T
DBARA Life Member
Time to Tune Up on Top Band: The ARRL 160 Meter Contest is December 5-7
---
Posted Nov 26, 2014 by AJ4MQ
The beginning of December marks the return of the ARRL 160 Meter Contest. The action gets underway at 2200 UTC on Friday, December 5, and wraps up at 1559 UTC on Sunday, December 7. This is a 42-hour event with no operating time limit. If you have ever yearned to try your hand at Top Band contesting, this is the perfect opportunity!
The ARRL 160 Meter Contest is an all-CW event, with ARRL/RAC Sections and DXCC entities serving as multipliers. If you live in a rare Section (think, North Dakota, Nebraska, Newfoundland-Labrador, or Delaware), everyone will be seeking you, even if can't generate a killer signal. Some successful operators even venture forth each year with just 5 W!
In this contest, both DX and US/Canada stations can work Alaska (KL7) and Hawaii (KH6), as well as the US Caribbean (KP1-KP5) and Pacific territories (KH0-KH9). Contacts with US/Canada stations are worth 2 points, while DX contacts are worth 5 points. The segment 1.830 to 1.835 MHz should be kept available for intercontinental contacts only.
PJ4S Bonaire Island SA-006 by DL1NX
---
Posted Nov 25, 2014 by QRZnow.com
Bonaire Island – PJ4S
" This will be a vacation operation style.
I will try to be on the air from 6 to 80m using a Buddipole and a Elecraft KX3. I also will try to be on the air for CQWW CW on 10m QRP category. 
City puts curbs on towering backyard antenna
---
Posted Nov 24, 2014 by QRZnow.com
For several residents of Coombs Street in Napa, Jeff Hullquist is their least favorite neighbor – or rather, the 55-foot-tall antenna outside his house is.
Since the longtime amateur radio enthusiast raised the spidery metal mast in April, some homeowners have attacked it for spoiling their views, and others claim the antenna has even disrupted their electronics – or, in one case, disabled a woman's electric wheelchair.
But their efforts to fight the mast in their midst has bumped against federal law Hullquist argues protects his right to build and use the antenna, even without a city permit.
On Thursday, the city Planning Commission granted him a use permit for the ham radio antenna – but with limitations including a requirement to lower the mast to 21 feet between 6 a.m. and 6 p.m. to avoid intruding on his neighbors' views. (The city allowed an exemption to transmit during a local emergency.) Hullquist also was barred from operating his transmitter while the antenna is retracted.
Afterward, Hullquist promised to appeal his case to the City Council – which also is scheduledto hear a counter-appeal from an opponent of the antenna.
The decision continues a seven-month stalemate pitting Coombs Street homeowners – who say the antenna also disfigures the Napa Abajo-Fuller Park Historic District that includes the street – against Hullquist, who has argued a Federal Communications Commission memorandum from 1985 blocks cities from passing laws that make ham radio use impossible.
Bicycle Mobile Station – WD8RIF
---
Posted Nov 24, 2014 by QRZnow.com
I am an avid bicyclist and enjoy combining amateur radio with my cycling. I have built a VHF/UHF FM bicycle-mobile station and I carry my QRP HF station to field events on my bicycle.
I built my bicycle-mobile station in the winter of 2004 in order to be able to ride bicycle-mobile helping the Athens County Amateur Radio Association (ACARA) provide communications support to the 2004 running of the Athens (Ohio) Marathon (link). The Athens Marathon is the big public service event the ACARA supports annually. For this event, the 2m HT and antenna system were completely successful; I could successfully hit the repeater over the entire 26+ mile course except for one small space near the far-end of the course.
Beginning with the 2005 running of the Athens Marathon, I also carried an APRS station on the bicycle.
In addition to the Athens Marathon, I've used my bicycle-mobile station in support of the Athens MS-Walk, Run Like Hell 5K Run for Cystic Fibrosis, and Pelotonia.
Note: This page reflects the current bicycle-mobile station built around a Yaesu FT-60R VHF/UHF handheld. The page describing the older station, which was built first around an ICOM IC-02AT 2m handheld and later around an ICOM IC-2AT 2m handheld, is archived and is available here.
Amateur Radio Volunteers on Alert in Mammoth New York Snowfall's Aftermath
---
Posted Nov 24, 2014 by QRZnow.com
Amateur Radio Emergency Service (ARES) and Radio Amateur Civil Emergency Service (RACES) volunteers are themselves still digging out from several days of unprecedented snowfall in Upstate New York. The severe weather already has been blamed for at least a dozen deaths. Western New York Section Emergency Coordinator Joe Tedesco, KC2DKP, said ARES volunteers have activated a net and are on alert in case they're needed. SKYWARN nets have been very active over the course of this week's two snowfall events, and Amateur Radio has been credited with reporting weather conditions to the National Weather Service. Tedesco, who is also Assistant Erie County RACES Officer and a Military Auxiliary Radio Service (MARS) member, said he lives in a direct line from Lake Eric, where most lake-effect snow bands get started.
"Although we always do see heavy snows, I have never seen anything close to the amount we saw yesterday," Tedesco said at mid-week. His area has received some 4 feet of snow. According to Weather.com, Wales Center, New York, recorded the highest combined snowfall total from this week's weather events, and has 85 inches of snow on the ground.
KB6NU's Column
---
Posted Nov 23, 2014 by KB6NU

Free Stuff!
By Dan Romanchik, KB6NU
I'm a sucker for free stuff. Below, you'll find links to a free transistor amplifier design program, a free printed circuit board design program, and a free tutorial on antennas. All of these look to be worth a look.
K3SEN: Whether to CW or Not to CW
---
Posted Nov 18, 2014 by K3SEN
The nice part about the Amateur Radio hobby is that it offers something for everybody. I have always liked CW (Morse Code). Before the last club meeting Captain John (K4TUG) ask me to fill-in and talk about the CW class I had just completed. At the end of that discussion I was ask if I could put a summary on the web site. That is what follows.
The first thing I need to do is to apologize to the "real" CW operators. These are the guys and gals that eat, sleep and live CW. I am NOT an expert! This is just a summary of what I learned in my CW class.
The class was conducted by The CW Operators' Club. Their web site can be found at:
This club offers CW classes at NO charge or obligation to beginners and those that need to improve or regain proficiency in CW. To sign up for a class, go to their website (see above) and click on the button on the left side of the page labeled "CW Academy". Fill out and submit the form. That is all there is to it. Now the bad news, they are in such demand that they are taking sign-ups for a year from now. Classes are 6 weeks long, two nights a week.